Help us raise $22,000 on #BDOG18 to purchase a new Club van!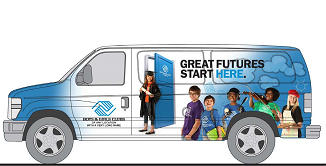 Join the #BDOG18 movement on May 3rd and donate to The Club!
Your gift will help us reach our goal to raise $22,000 and purchase a new van for The Club!
The van will be used to safely transport teens to the Club each day. It will also be used for our workforce development program, youth-led community service projects, and our FREE athletic league. 
Thank you for choosing to support Boys & Girls Clubs of Greater Sacramento on Big Day of Giving!
Your gift brings us one step closer to reaching our goal! 
We have raised
$2,329.00
of our goal.
---
Click Here if you would prefer to make your Big Day of Giving donation to the Club directly through the Big Day of Giving website.
Did you know you can also schedule your #BDOG18 donation in advance so you don't miss out?